Welcome to Cork and Keg
Braselton's Favorite Beverage Store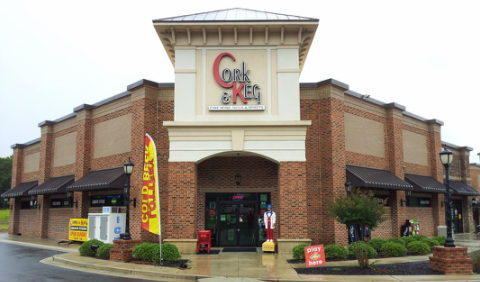 Store Hours EXTENDED SUNDAY HOURS
12:30 p.m. - 8 p.m.
Monday - Thursday
10 a.m. - 10 p.m.
Friday and Saturday
10 a.m. - 11:30 p.m.
706.658.2491
Get Directions Map

HOLIDAY HOURS:
Christmas Eve 10 am - 7 pm Christmas Day CLOSED
New Year's Eve 10 am - 11 pm
---
GREAT STOCKING STUFFERS

---
**LIMITED TIME DEAL ON LARCENY**

---
HIGH WEST WHISKEY

HIGH WEST CAMPFIRE : The main flavor (or melody) is sweet honey from a ripe bourbon. The enhancing flavor (or harmony) is floral fruity spice from a mature rye whiskey. The accent is the smoke from a peated scotch whisky. So...as the sun sinks low and the cold settles in, grab a bottle of HIGH WEST WHISKEY CAMPFIRE® and gather round a blazing fire to warm up, wind down your day, share stories, and deepen friendships.

HIGH WEST SON OF BOURYE: The bourbon (mashbill: 75% corn, 20% rye, 5% barley malt) is a minimum of 5 years old. The rye (mashbill: 95% rye, 5% barley malt) is a minimum of 5 years old.

HIGH WEST RENDEZVOUS RYE: Rendezvous® Rye is a blend of two exotic straight rye whiskies; one old, and one young. It marries the rich aromatic qualities of a 16-year-old rye with the bold spicy properties of 6-year-old rye to create a full flavored, very complex whiskey. The 6-year-old boasts an uncommonly high 95% rye mash bill.
---
Wiser's Rye and Wiser's Spiced Whisky Vanilla


Bold, rye flavor for him.
Soft, spiced vanilla flavor for her.

---
Kahlua Pumpkin Spice

Kahlúa Pumpkin Spice is a limited edition offering featuring the seasonal twist of natural pumpkin and delicious autumnal spices blended with 100% Arabica coffee and sugarcane rum.


Kahlua Pumpkin Martini

1 1/2 parts Kahlua Pumpkin Spice
1 1/2 parts vodka

Combine in a cocktail shaker. Add ice and shake. strain into a chilled martini glass. Garnish with a sprinkle of
nutmeg and enjoy!

---
Evan Williams Egg Nog

The Holidays are officially her. The most wonderful time of the year! Time for Egg Nog!!
---
**LIMITED TIME**



Calico Jack Coconut Rum 1.75 L

$14.99

---
UV Candy Bar Vodka

Bring the candy store to your cocktail with UV Candy Bar. Made with natural flavors, it's a treat with cola, milk or even on its own. Try it the next time you're looking to quench your sweet tooth. Yummy!!!

---
New Amsterdam Flavored Vodka

From the same-award winning distillers who crafted New Amsterdam Vodka and Gin, New Amsterdam Flavored Vodka is made from the finest grains from America's heartland. It is five times distilled for unparalleled smoothness. Citron, Coconut, Peach and Red Berry Flavors available.

---